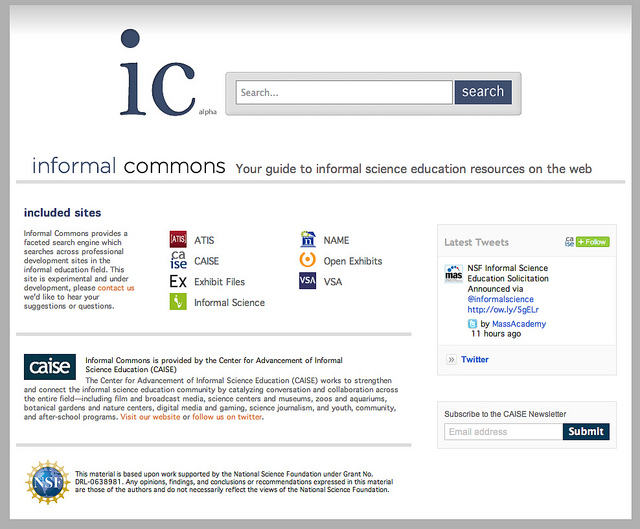 Open Exhibits is one of the sites included in the new Informal Commons federated search site.
The purpose of the Website is to provide consolidated search of multiple informal science education (ISE) sites. Currently seven ISE professional development sites are included: Assessment Tools in Informal Science (ATIS), Center for the Advancement of Informal Science Education (CAISE), ExhibitFiles, Informal Science, National Association for Museum Exhibition (NAME), Visitor Studies Association (VSA), and Open Exhibits.
The site was developed using the open source Apache Solr search platform and while informal Commons is still "alpha," more development is planned this year. You can learn more about Informal Commons site development and future plans on the Ideum website or check out the site itself at: www.informalcommons.org
Informal Commons is also looking for Alpha Site Testers you can learn how you can help on the CAISE Website.
On a related note, we are working on a target search feature for Open Exhibits that will allow for better searching of software and blog posts. That should be done in just a few days!
by Jim Spadaccini

on June 23, 2011