Blog
In November, our first modules and the Open Exhibits core software will be released. Here's a rundown on the November software release and a general overview on the types of software that will make up Open Exhibits.
Open Exhibits Core
Open Exhibits Core provides support for multitouch gestures within Adobe Flash and Flex. Open Exhibits Core is a free, educational version of GestureWorks, a software package that we've already spent a year and half developing.
Open Exhibits Core will come with support for hundreds (yes, hundreds!) of gestures and the ability to allow users to create their own through its open source gesture library.Open Exhibits Core and all of the modules, templates and exhibits will be provided free of charge to students, educators, and researchers--anyone who is involved in formal or informal education. (All modules, templates, and exhibits can be freely used by commercial users of GestureWorks as well.)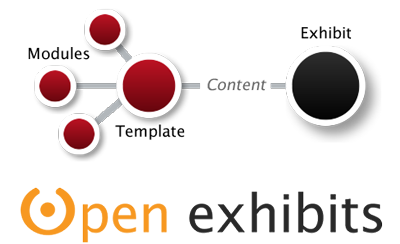 Modules
Modules are small self-contained components that work with Open Exhibits Core. They can be easily added to any existing Flash or Flex application. In addition, modules are designed to be combined to create new applications or templates. We hope to have five modules ready for release in November:
Onscreen keyboard - A customizable keyboard for use on multitouch tables and kiosk.
"Polaroid" image viewer - A flexible multitouch image viewer which draws on local PNG and JPEG files. Images can be scaled and rotated with gestures. It supports metadata such as title, description, and credit. It uses an XML file for image paths and descriptive information.
Flickr image viewer - Similar to the Polaroid image viewer, except that images and metadata can be drawn from Flickr users or groups.
YouTube video viewer - Again, similar to the Polaroid and Flickr image viewer, except that this module draws video and metadata from YouTube.
Multitouch Google Map - A single-user Google map with multitouch gesture support for pan and zoom. All of these modules can be skinned and customized in many ways.
This is just the first set; we will be developing many more. And hopefully others will join in, as we plan to update our site to allow users and developers to upload their own modules and templates.
Templates
Templates are ready-made applications that can be easily customized and skinned. They don't have content yet, but are structured in such a way that adding content can be done by non-programmers. Many of the features and the graphic look can be customized by modifying existing XML files to make them more accessible. More advanced programmers can rework these templates, creating new templates or exhibits.
The first template will be a Google Mapping Application with support for multiple users, images and video, and KML overlays. This will be available in December. More templates will be available in 2011.
Our museum partners, the Don Harrington Discovery Center, the Maxwell Museum of Anthropology, and the New Mexico Museum of Natural History and Science will help determine which templates will be next developed.
Exhibits
We will release fully functioning software for exhibits, including content, that can be customized in much the same way templates are. The exhibits we develop with our partners will be available as both templates and exhibits. The software will be available through a (modified) GNU 2.0 license, and the content will be licensed under Creative Commons.
Questions? Comments? Ideas? When we announced last week that Open Exhibits received its funding from the National Science Foundation (NSF), we received a lot of comments and questions. One Tweet that stood out:
"@openexhibits looks interesting. I just hope that museum interactives don't all start looking the same."
Certainly, we are aware of the danger here. As we stated in our original proposal to NSF: "The philosophy of Open Exhibits is to create interchangeable modules that free up resources to enable creativity and foster innovation." Our experience is that museums often build computer- based exhibits with many of the same functions, yet the source code is never shared. We hope that by creating a community that allows developers to share foundational elements, it will give developers the time and resources to explore more interesting and innovative approaches. We also believe that a strong focus on interchangeable and flexible modules (not just templates or finished exhibits) will encourage creativity and exploration.
Please let us know what you think.

by
Jim Spadaccini

on Sep 28, 2010