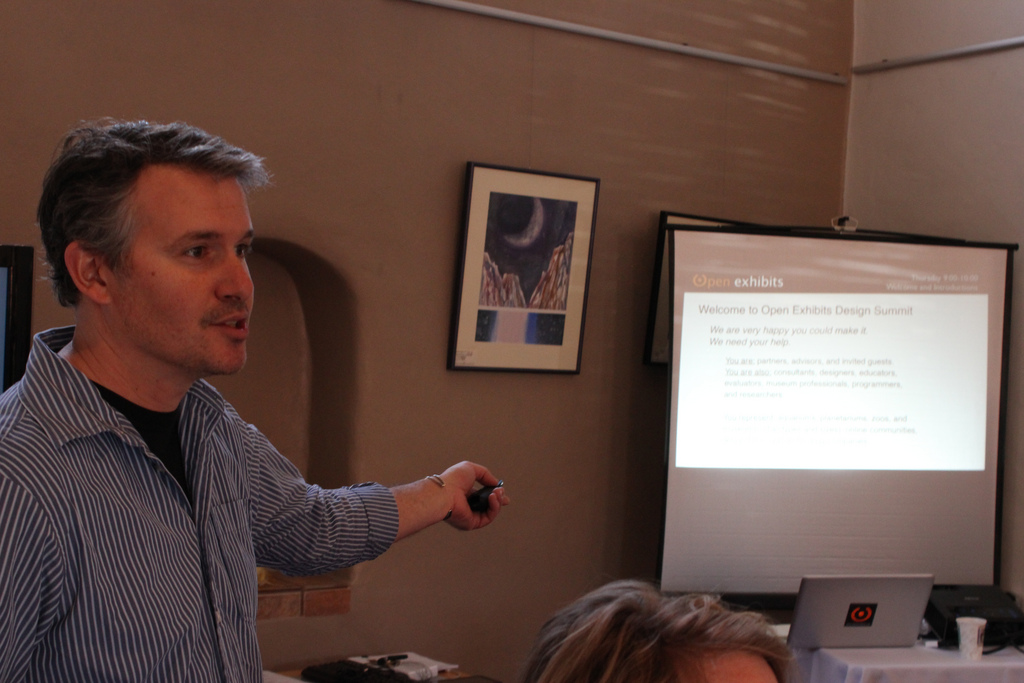 Jim Spadaccini introducing the Open Exhibits Design Summit in Corrales, NM, March 2011.
The Open Exhibits Design Summit has attracted over 30 experts from art museums, zoos, planetariums, ISE, aquariums, research, and technology development. The project partners, advisors, and invited guests have committed to two days of design exercises and discussions to shape the future of the Open Exhibits project and community. Jim Spadaccini, Principal Investigator, said the goal of attracting such a diverse group of experts is to effectively crowd-source the future of Open Exhibits and its strategies.
"I think we've done a great job for the last six months," Spadaccini said, "and now we're looking for all of your input to guide us into the future through feedback and assessments," he told the group.

The design summit, as outlined by Mr. Spadaccini, includes strengthening the Open Exhibits community (currently over 700 members); determining how best to design the first Open Exhibits software templates and exhibits; and learning how to optimize the presentation of museum collections and educator applications on-site and for the web.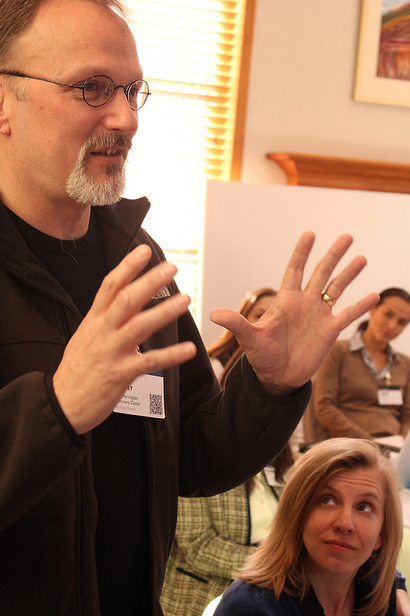 Mr. Spadaccini introduced the Summit with a look at the next 25 years in emerging technology. In that introduction, he identified haptics, speech recognition, augmented reality (AR), gesture recognition, and multitouch as future technology the project would like to bring to the museum floor. (Read more of Jim's insights into emergent technology at the Ideum blog)
In closing, Mr. Spadaccini asked "How can we improve the likelihood of this project's success? …This is not the typical museum crowd – by design… The diversity of talent and ideas in this room is monumental, and I think we have our work cut out for us."
Open Exhibits has secured a 3 year National Science Foundation grant and is less than 6 months into development. The Open Exhibits Design Summit is taking place March 10-11, 2001 in Corrales, NM.
Chip Lindsey at the OE Design Summit

by Donovan Kabalka

on March 10, 2011