The Open Exhibits Collection Viewer now has the ability to pull from collection data in CollectiveAccess collection management software. Catalog objects and metadata in CollectiveAccess are queried and pulled into the Collection Viewer interface for interactive browsing of museum or archival collections.
CollectiveAccess is web-based software for managing museum and archival collections. It is the first collection management system used with the Collection Viewer as proof of concept for making interactive multitouch exhibits with existing datasets. Open Exhibits created an artificial collection of objects within CollectiveAccess using images from the Encyclopedia of Life Images Group on Flickr and descriptive text from various web sources. The Collection Viewer mapped to the 'Organism Type', 'Organism Subtype', and 'Organism Location' fields in the object records to create a primary browsing category and two narrower sub-categories. The 'Physical Description' field was used to populate the image description.
The Collection Viewer interface features two browsing docks where visitors can select categories and sub-categories for image browsing. Based on pre-mapped category terms, relevant images will appear in the dock and are available to be dragged into the main viewing area. Once in the viewing space, images can be enlarged, rotated, and shared. Description information for each image is viewable by tapping on the information icon on the bottom left corner of each image.
This version of the Collection Viewer will be released in the upcoming weeks. Open Exhibits will be demonstrating the Collection Viewer this week Museums and the Web on Ideum's prototype of the Platform 46 3M multitouch table.
The Collection Viewer for use with Flickr photo sets is available for download. For more information and to download, see this Downloads page.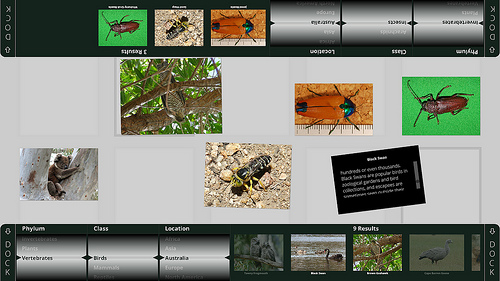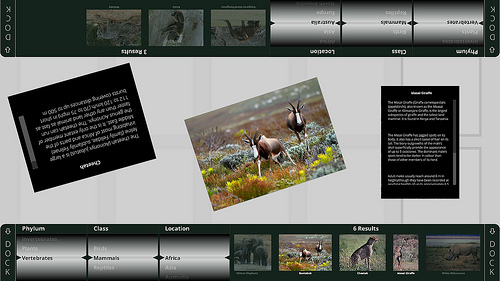 by Nora Galler

on April 16, 2013