This video demonstrates the results of a recent collaboration between SENSUS and our own Open Exhibits software initiative. The concept is simple: make networking and sharing transparent across multitouch devices and operating systems. The demo video shows an Android Tablet (Samsung Galaxy), a Multitouch Table (our own, new MT55), a Windows 7 multitouch kiosk, and an iPod–all sharing media items (images, video, and a Google Map) effortlessly.
This easy sharing is made possible with Konnectus software which is a new cloud-computing platform developed by SENSUS. The Konnectus software and the Open Exhibits modules will be available later this summer.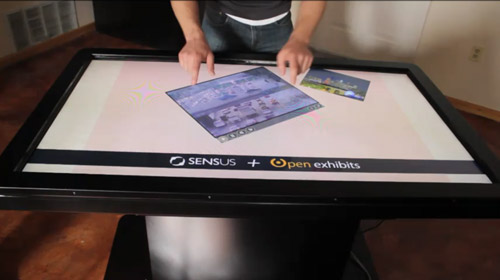 Here's more about Konnectus and our partners at SENSUS… KonnectUs is a new cloud-computing software platform by SENSUS designed to make sophisticated networking functions easy and intuitive for users across a range of devices including multitouch tables, desktop computers, tablets, and mobile phones. KonnectUs "Natural Networking Technology (NNT)" empowers users to connect seamlessly across all major platforms – from Windows to Android to iOS. The new software aims to deliver a desktop user experience for key cloud-based services such as file sharing, social networking and location-relevant distribution of content. Additionally, KonnectUs APIs allow developers the opportunity to leverage the power of SENSUS networking technology through integration into third party applications.
You can read the full-press release on the SENSUS Website. (This blog post is cross-linked at Ideum blog)
by Jim Spadaccini

on March 22, 2011