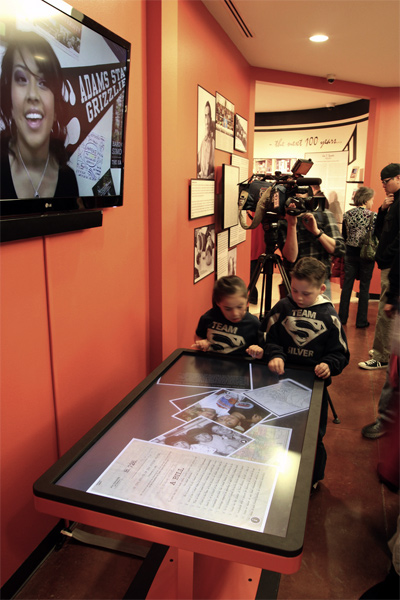 This weekend we had the pleasure of attending the opening of 100 Years of State & Federal Policy: The Impact on Pueblo Nations at the Indian Pueblo Cultural Center (IPCC).
The exhibit has two media-based interactive exhibits and while these exhibits were custom, both utilized software modules that will be part of the new Open Exhibits software release in March. A new multiscreen Collection Viewer and a multiscreen timeline exhibit on stretched LCD were developed.
Ideum, the lead organization in Open Exhibits developed custom multitouch hardware and software for the exhibit. (You can learn more about the timeline and Collection Viewer installation on the Ideum portfolio.)
The multiscreen display option will be part of our March software release, allowing Open Exhibits developers to easily build these types of exhibits. Using the new software, a touchscreen or multitouch table can easily become a "remote control" displaying and controlling image or video content on a secondary monitor.
The media exhibits show primary documents, photographs, video interviews and other supplemental materials. IPCC describes the exhibition:
This exhibition and its public programming will reflect upon the human experience behind enacted policies and laws on Pueblo communities by other governments. It will add to a well-documented history of Pueblo resilience since the time of Emergence. Interviews with Pueblo members will provide visitors with historical and personal reflections to help them understand and appreciate these historic challenges, often imposed through policy and laws, all intended to purposefully remove Pueblo people away from their core values.
You can learn more about the exhibition on the Indian Pueblo Cultural Center website. In addition, there are more photos of the installation and opening on Ideum's Flickr site.
You can see a video the exhibition opening from the local ABC affiliate, KOAT Channel 7.
by Jim Spadaccini

on February 6, 2012