To launch Creating Museum Media for Everyone (CMME), a NSF grant which Jim mentioned in an earlier post, the Museum of Science, Boston held two back-to-back workshops in May 2012. Both the Possibilities and Concept Development Workshop were designed to bring together a range of experts and to make strides in developing the next generation of universally designed computer-based museum exhibits. Below is a brief recap of the first workshop and the range of ideas we heard from our expert advisors.
During the Possibilities Workshop, 46 participants from a variety of fields shared ideas and brainstormed new possibilities for inclusive digital interactives in science museums. Besides team members from the Museum of Science, WGBH's National Center for Accessible Media (NCAM), Ideum, and Audience Viewpoints, staff from the following institutions participated: Oregon Museum of Science and Industry, The Franklin Institute, San Diego Museum of Natural History, and Balboa Park Cultural Partnership.

Over the course of the two-days, we heard presentations about the overarching goals of the project and about relevant advances in other fields of work. Participants also experimented with the latest technology available for exhibits and brainstormed ideas for digital interactives.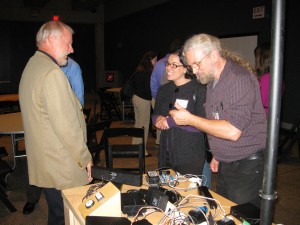 Our 11 expert advisors not only shared ideas from their own projects but also other useful resources. Below are brief summaries of what we learned and links to some exciting work.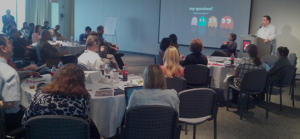 Sheryl Burgstahler (University of Washington) and Gregg Vanderheiden (University of Wisconsin-Madison) both emphasized the barriers to access that still exist for many people and offered examples of the benefits of universally designed experiences. Burgstahler provided a broad historical overview of different disability models and emphasized how all experiences should be designed with usability in mind. Vanderheiden highlighted the Global Public Inclusive Infrastructures project which is exploring means for auto-personalizing people's experiences with a variety of interfaces. Vanderheiden felt that this concept could reinvent accessibility and proposed to participants that auto-personalization would ultimately have implications for the museum setting.
Lisa Jo Rudy, Gabrielle Rappolt-Schlichtman, and Mark Barlet all talked about how museums are in unique positions to create accessible experiences. Rudy (Independent Consultant) outlined the huge variety of autism spectrum disorders and noted the strengths and challenges of the museum environment to engage people with autism in social and educational experiences.  Rappolt-Schlichtmann (CAST) also highlighted how museums may risk creating exhibits that can be over-stimulating and distract from learning. By thinking carefully about the emotional experiences they are creating, she felt museums can create spaces that allow all visitors, and not just those with learning disabilities, to learn. Barlet (AbleGamers Foundation) spoke about how gaming, in particular, is one method that is underused in the museum context. He urged museums to include more accessible game-like experiences in their exhibits.
Chris Power (University of York) and Jennifer Otitgbe (Institute for Human Centered Design) presented on the importance of including feedback from people with disabilities when designing museum experiences. In his presentation, Power dispelled the myth that it was time-consuming or hard to perform evaluation with people with disabilities by explaining that talking with 7-20 participants can give one an indication of significant changes that need to be made to a product. Otitgbe emphasized how museum experiences might theoretically be accessible but in actuality are difficult for many users. She used the example that an exhibit may have captions, but only visitors will be able to tell you whether or not they are too small to be useful.    
James Basham, Bruce Walker, Cary Supalo, and Harry Lang gave the final advisor presentations and each talked about specific elements of their research work. Basham (University of Kansas) highlighted his work with the Digital Backpack that provides support and technology to personalize learning. He shared his preliminary efforts to turn a field investigation guide into an iPad app that can support learning. Walker (Georgia Institute of Technology) shared insight into how sound can communicate more than music and speech. Walker provided examples of how sound can be used as a wayfinding system, can interpret dynamic exhibit experiences such as fishes' movements at an aquarium, or can map different data points with a variety of pitches and tempos. Supalo's (Independence Science, LLC) presentation went into detail about the development of speech-accessible laboratory probes that makes scientific lab experiences more accessible for blind and low-vision students. Lang (Rochester Institute of Technology) provided an overview of research studies about deaf education in science. In particular, he pointed out how deaf students often have low reading levels and that there is a lack of scientific and technical terms in ASL.
All of the advisor presentations provided insightful information that workshop participants referred to over the course of the week. Read the related blog post to learn more about the work that went on at the Concept Development Workshop.
by Marta Beyer

on November 9, 2012