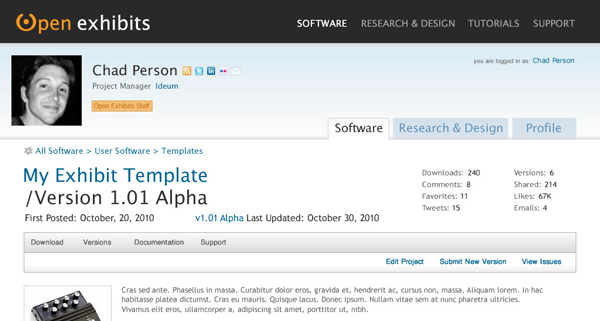 We are now three and a half weeks into the design process for the Open Exhibits website. In retrospect, this process has been going on for over 2 years. It began when the idea for Open Exhibits was born and it's been influenced by every professional development site and online software collaboration tool we've encountered since.
The Open Exhibits website has a number of challenging goals:
It must serve as a hub for the distribution of exhibit software, and places for members to build, collaborate on, and distribute their own modules and exhibits.
It should function as an idea-mill and research lab for museum practitioners as they continue to develop software-based exhibits and explore the exciting possibilities of multitouch technology and shared surface computing.
It should serve to shrink the technical proficiency gap between museum technicians and the developers authoring software for the museum floor with uncomplicated solutions and strong educational material.
It should function as a living network where software, research, and professional connections can grow organically under the care and direction of committed professionals.
Lastly, the site should highlight the achievements of individual members of the Open Exhibits community while simultaneously capturing a portrait of the community as a whole.
Central to all of these goals is our desire to foster a community of engaged exhibit developers sharing a body of exciting, useful, and open tools that will advance the position and execution of electronic exhibits on the museum floor.
Believe me, the scope and ambition of this site has not been lost on us. In a few weeks we will release the first iteration of the Open Exhibits website. With such a lofty set of goals, the design assumptions we make today will influence our community's ability to develop, share and grow for the next three years and beyond.
Please enjoy this design teaser showing one section of the upcoming site. The site will launch in November and we look forward to user feedback.
by Chad Person

on October 15, 2010