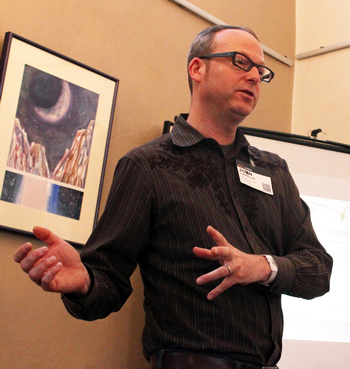 In the lead up to the timeline design acitivity John Llewellyn from the Museum of Science and Industry in Chicago presented a few examples of successful timelines, exploring both linear and object-oriented timelines in museums.
According to Mr. Llewellyn, many museum timeilne exhbitis are successful, some are not, including the Civil War in Four Minutes built around Lincoln.
He went on to suggest that visual waveform representations of music such as in sound editors like garage band, can help us to understand timelines in exhibits.
"Timelines are a balance between simplicity and complex interrelationships."
There is a historical aspect and a process aspect. What is the textural feel of time? How do we show these connections and make them sing?

Slides from John Llewellyn's presentation can be viewed here:

J_Llewellyn_Timelines_1.pdf
(1.91MB)
by Sanford Clark

on March 18, 2011