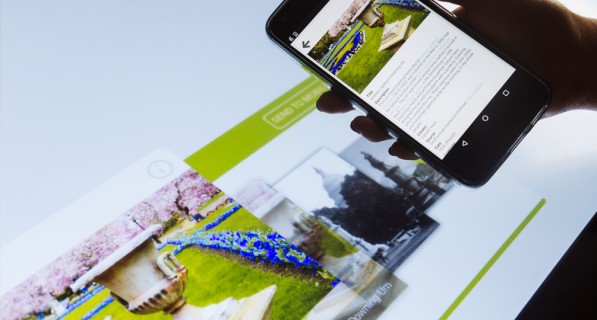 The role of mobile applications in the museum field has been a matter of discussion since the debut of the iPhone a decade ago. Since then, many museums have developed mobile apps, explored way finding, and experimented with other uses for these ubiquitous devices. Five years ago, we developed an experimental application called Heist which connected mobile devices to digital collections found on touch tables using a captive portal and HTML5. Ahead of its time, Heist was difficult to scale and implement broadly, but we hung on to the idea, wrote another grant (with our partners) and have since developed a new Heist-like system called The Omeka Everywhere Collections Viewer.
Omeka Everywhere is an IMLS-funded project that has brought together Open Exhibits and Omeka to make collections more accessible to the public in a variety of settings. The Omeka Everywhere project is a collaboration between the Roy Rosenweig Center for History and New Media at George Mason University, Ideum, and Connecticut's Digital Media & Design Department. The software we've developed allows museum visitors to pair their mobile devices with a collections viewer application optimized for a multitouch table or a touch wall. Visitors can then favorite collection items and share them on their preferred social media platforms.
As the video demonstrates, we used a mobile app and simple numeric code in the table software to pair devices with stations on the touch table. It is a simple and highly reliable way to connect the applications. The advantage of a full mobile application (as opposed to the HTML5 captive portal page used with Heist) is that the mobile application will travel with visitors after their museum experience ends. The challenge may be getting the museum goers to take the time to download the application in the first place. A possible solution would be to make it easier to download the application at the museum itself, through a captive portal. That may increase adoption. We will soon see how museums use this software and how many visitors opt to participate.
At the moment, there isn't a simple way to connect to people's personal devices in museums. Visitors bring their iOS and Android phones with different hardware specs and various OS versions. Sharing between devices in a public setting isn't seamless. Along with hardware and software fragmentation, general concerns about privacy and security are real, so for the foreseeable future there will be imperfect methods for these types of experiences. Still, for those visitors who do participate, our usability testing strongly suggests that they will have an enhanced experience at the museum and they will take the collection (and their favorites) with them as they leave to share, study, and re-experience on their own terms.
The Omeka Collections Viewer and its mobile application companion will be available later this summer to museums, cultural organizations, and others via Open Exhibits and Omeka. The applications will be free and open. Attendees of this year's American Library Association Annual Conference and Exhibition in Chicago will have a chance to see the Omeka Collections Viewer in person at Ideum's exhibition booth 5237.
This project was made possible in part by the Institute of Museum and Library Services [award number MG-30-0037-1].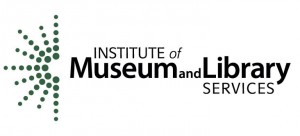 by Jim Spadaccini

on May 31, 2017