Blog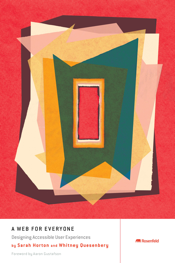 Check out UX Magazine's excerpt of Sarah Horton and Whitney Quesenbery's book on accessibility, A Web for Everyone: Designing Accessible User Experiences.
Through the use of case studies on individuals with different accessibility challenges, the authors present clear overviews of how they each use technology for work and leisure. The profiles address specific challenges with technology and outlines the adaptive technology they use daily.
The insight into these user profiles will help user experience designers think more critically about universal design for web sites.
For additional information, see the web page for the book which also includes the "A Web For Everyone" Blog with insightful entries on accessibility by the authors.

by
Nora Galler

on Apr 11, 2014